Sony Cyber-shot DSC-WX5 full review
For casual snapshooters, the Sony Cyber-shot DSC-WX5 offers a unique blend of good image quality, innovative in-camera modes, and even a few 3D-shooting tricks.
Sony has been on a roll lately with its Exmor R-sensored point-and-shoot cameras, and the compact but capable Sony Cyber-shot DSC-WX5 ups the ante established by its predecessor, the Sony Cyber-shot DSC-WX1.
The 12-megapixel, 5X-optical-zoom (24mm to 120mm) Sony Cyber-shot DSC-WX5 camera offers the same f/2.4 Sony G lens, impressive image quality, low-light bracketing capabilities (via Handheld Twilight mode), Sweep Panorama mode, and pocket-friendly size as the WX1, and it adds a pair of 3D-shooting modes to its arsenal of in-camera tricks.
Full manual controls are still missing, which makes this compact camera a tough sell for experienced photographers. Casual shooters probably won't miss them much; the Sony Cyber-shot DSC-WX5's scene modes and other shooting options cover most of the bases, and they're a lot of fun to use.
Sony Cyber-shot DSC-WX5: Camera Controls and 2D Shooting Modes
Although the Sony Cyber-shot DSC-WX5's physical appearance and features are very similar to those of the DSC-WX1, it has a few notable changes. With the WX5, Sony has refined some of the shooting modes found in the WX1, added a few more options to the mix, and changed several of the hardware controls. What's more, this camera accepts SD and SDHC cards in its combo slot as well as Sony's proprietary Memory Stick format; you can insert one of the two formats at a time, but not both.
Other key improvements over the WX1 are in the zoom controls, which are now on a ring around the shutter button rather than a thumb-operated toggle. The Sony Cyber-shot DSC-WX5 also has a dedicated video recording button on the back (it shoots 1920-by-1080 AVCHD video at 60i, an upgrade from the WX1's 720p, 30-fps video), as well as stereo microphones on top (the WX1 had a single, mono mic).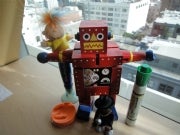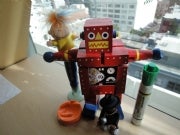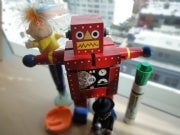 In addition to the menu of scene modes accessible from the camera's back-mounted mode dial (which include common settings such as Twilight Portrait, Landscape, Snow, and Fireworks), you get dedicated mode-dial selections for Background Defocus mode, 3D shooting modes, Sweep Panorama mode, and an HDR-like setting that Sony calls Superior Auto mode.
Click the thumbnail images to see the full-size versions of each of our test shots, taken (from top to bottom) in Superior Auto mode, Intelligent Auto mode, and Background Defocus mode.
At its heart, Superior Auto mode is a reworking of the older WX1's Handheld Twilight scene mode: the setting takes up to six shots in rapid succession at different exposure settings, and then combines the shots in-camera to make a single image with a high dynamic range. The results are impressive, but they often look surreal: colours appear bright and oversaturated, and shadowy areas are clearly defined. For HDR enthusiasts, it's good to have the Superior Auto mode option available at a click of the mode dial, but it's also nice to have the original Intelligent Auto mode available for more-accurate-looking photos.
Although it doesn't have dedicated aperture controls for manually tweaking a shot's depth of field, the Sony Cyber-shot DSC-WX5's Background Defocus setting lends a similar sense of depth to macro shots and close-up portraits, blurring the background and drawing the viewer's eye to the foreground subject. It works well, but only when you're close to your subject and there's plenty of distance between the foreground subject and the backdrop; otherwise, the camera doesn't quite know where to start making the image blurry.
Sweep Panorama mode remains the best implementation of an in-camera panorama mode we've ever seen, thanks to its ease of use. Just press the shutter button once and then pan the camera across a scene either horizontally or vertically, and you have an instant panoramic image. This is the second generation of Sweep Panorama; Sony now calls the mode Intelligent Sweep Panorama, claiming that it handles moving subjects a bit better than the previous implementation did. In tests, evidence was inconclusive on that claim; we still saw some odd artifacts in panoramic images that involved moving subjects, and panning the camera too fast across a scene results in a truncated, not-quite-panoramic image. Panning the camera slowly across a static scene works beautifully, however.
The Sony Cyber-shot DSC-WX5 has useful automated settings for fast-action shooters, too. Right on top of the camera is a quick-access button to the burst-shooting mode, which snaps as many as ten full-resolution shots per second. The most-granular set of controls you have at your disposal is in Program Auto mode, which lets you adjust exposure compensation, ISO, white balance, metering, and autofocus settings (spot, centre, or multipoint autofocus). The Sony Cyber-shot DSC-WX5 has no true manual focus, but it does have a motion-tracking setting to keep moving objects in focus.
Group test: what's the best budget camera?
NEXT: 3D-Shooting Modes >>
Group test: what's the best digital camera?
Retailer
Price
Delivery

Price comparison from over 24,000 stores worldwide