Nokia Lumia 1020 full review
The Nokia Lumia 1020 is the Finnish firm's latest and greatest Windows smartphone with a 41Mp camera at its core. Here's our Nokia Lumia 1020 review. Review UPDATED: 23rd September 2013
The Lumia 1020 can be thought of as a replacement for the 808 PureView. That model also had a 41Mp camera offering high-quality photography for a smartphone but was severely hindered by the Symbian operating system.
Nokia has taken that technology and brought it to its range of Windows Phone 8 handsets and the camera is really what this smartphone is all about. But can it beat the competition overall? Read on to find out.
See all smartphone reviews.
Nokia Lumia 1020: Design and build
From the front, you'd have to be eagle eyed to know you're looking at the Lumia 1020, not the Lumia 920. The two are almost identical apart from slightly different button, ear piece and Nokia logo placement. Flip it over and the two look quite different because of the large round camera module which has been integrated into the 1020.
It's a phone of some proportions, and by that we mean it's a chunky beast. It's 10.4mm thick and that's not including the camera lump which gets in the way of your index finger when using the device. This is a sacrifice you're going to have to make if you want that camera, though. It's not exactly light at 158g, but at least it doesn't weigh as much as the older 920.
The polycarbonate body has a matte finish and this makes the Lumia 1020 soft to the touch. Like other Lumias, it feels solid and well-made. The screen is coated in Gorilla Glass 3. It also feels more luxurious than previous models.
It's unfortunate then, that Nokia has decided to produce the Lumia 1020 in a frankly hideous yellow colour which we've named 'neon banana'. Luckily there are also black and white versions to choose between.
Nokia Lumia 1020: Hardware
Much of the Lumia 1020's hardware remains largely the same as the 920 – a year-old handset. It's got the same 1.5GHz Qualcomm Snapdragon S4 dual-core processor but RAM has been doubled to 2GB. As is typical for Windows Phone 8 handsets, performance is predominantly smooth apart from loading certain sections of the settings menu and some apps.
Web browsing is a strong point with a snappy and smooth experience. This is shown by the time of 910ms in the SunSpider 1.0 test.
The screen is still 4.5in, surprisingly small considering the overall size of the smartphone. Resolution is the maximum Windows Phone 8 supports, 768x1280 and although it looks good, it's by no means a class leader any more. Its strong points are contrast, colour reproduction and excellent outdoor visibility. Plus, the touchscreen still works if you're wearing gloves.
Like the 920, the phone ships in 32GB but O2 has the exclusive, for now at least, on the 64GB model. There's no microSD card slot on offer here.
Other specifications include Wi-Fi, Bluetooth, NFC and support for 4G LTE networks. It's exactly what you would expect from a high-end smartphone.
See also: Nokia Lumia 925 review.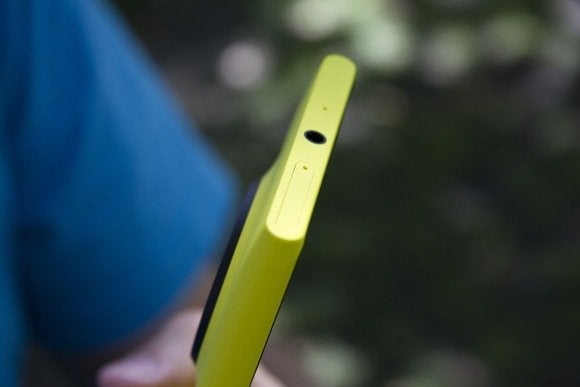 Nokia Lumia 1020: Cameras
Let's get to the point of this smartphone: the 41Mp camera. It's pretty much the only reason you'd opt for the 1020, so is it any good?
Combined with a Xenon flash, focus assist light and Nokia's Pro Cam app, it's the most advanced and powerful camera we've seen on a smartphone to date. Even the iPhone 5S can't compete on this score. For the vast majority of the time it produces excellent results. The level of detail is incredible in good lighting and is vastly better than the competition.
The floating lens and optical image stabilisation come in handy for both photos and video, ding a great job of avoiding what would often be a blurry mess.
Although it has a 41Mp sensor, the 1020 takes two photographs when you hit the shutter button, one at 34Mp and a smaller, sharable 5Mp version. You can then crop the larger image to create new photos on the phone itself. The idea is you capture the moment then edit later. However, it takes an age to process and save shots so you can't snap away quickly.
The other option is to just take 5Mp snaps but this doesn't speed up the processing, it just stops you filling up your storage. The ability to automatically upload the fruit of your labour to Microsoft's SkyDrive is a handy feature, however.
Plugging the 1020 into a computer gains you access to both versions of your photos, but you have no real way to access both images directly from the phone. Deleting an image from your camera roll deletes both the full-resolution photo and the downscaled 5-megapixel version.
The Pro Cam app gives you optional control over a lot of settings including ISO, shutter speed, exposure and focus. You can bring them up one at a time or all in one go. We like the app, but it's a pain having to change 'lenses' (effectively switching apps) for panoramas and Smart Cam which has features such as burst mode.
We also love the camera grip accessory which gives the 1020 the feel of a proper camera, a tripod mount plus an additional battery so you don't run of juice half way through a shoot. It's easy to slot into place but requires skill to remove.
In contrast to the main camera, the front camera on the Lumia 1020 is an unexciting 1.3Mp snapper and can shoot video at up to 720p. It's good but it's not great.
You can check out how the Lumia 1020 has been used professionally by National Geographic and photographers Bruce Weber and David Bailey.
Visit: What's the best Nokia smartphone?
Nokia Lumia 1020: Software
The Lumia 1020 runs Windows Phone 8 as smoothly as we've come to expect from the OS and Nokia's Lumia range.
The handset comes with the latest version called Amber which brings a few tweaks and additional features. This includes Glance which shows you a clock when the screen times out. There are different settings and our favourite is 'peek' which will show the time if you wave your hand over the 1020.
As usual, the Lumia 1020 comes with a bunch of Nokia's apps including Maps, Drive+, Music, Cinemagraph and Creative Studio. It's a great portfolio but Windows Phone is still leagues behind Android and iOS in terms of what's on offer in the app store.
Facebook and Twitter are still unofficial and big name apps such as Dropbox are still missing. Since the Lumia 1020 is all about photography, it's a big shame that Instagram is also a no-show in the Windows Store.
If you're an iOS or Android user thinking about switching to Windows Phone you're likely to find that a lot of the apps you use every day simply aren't available. Also, when new apps come out you can almost guarantee that iOS and Android will be prioritised and WP8 users left waiting.
Nokia Lumia 1020: Battery life
We found battery life to be unimpressive. The 1020 struggled to get through a day of normal use, a poor effort for any smartphone and we had the battery saver mode switched on.
Once you start snapping away the battery drains very quickly so the camera grip with its extra battery will be a necessity if you opt for the 1020. The battery also drains an awful lot when the phone is on standby.
Specs
Nokia Lumia 1020: Specs
Screen Size: 768 x 1280 pixels, 4.5 inches (~332 ppi pixel density) Storage: 32 GB Ram: 2 GB Processor: Dual-core 1.5 GHz Krait Qualcomm MSM8960 Snapdragon Card slot: No Connectivity: Wi-Fi 802.11 a/b/g/n, dual-band, DLNA, Wi-Fi hotspot, Bluetooth 3.0, NFC, microUSB Camera rear: 41MP Camera front: 1.2Mp OS: Windows Phone 8 Dimensions: 130.4 x 71.4 x 10.4 mm, Weight: 158 g
Retailer
Price
Delivery

Price comparison from over 24,000 stores worldwide