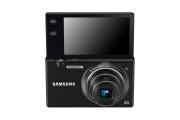 The past week or so has seen all the big-name camera manufacturers jockeying for position in the holiday camera-sales sweepstakes, and Samsung is the latest company to get in the game.
The Samsung NX200 compact interchangeable-lens camera is a follow-up to last year's NX100, adding a higher-resolution APS-C sensor, 1080p video capture, a more-secure-feeling grip, and 3D shooting options to its mix of features. The WB750 pocket megazoom offers an 18X-optical-zoom lens that ties it with the Nikon Coolpix S9100 at the top end of the pocketable-zoom class. And the Samsung MV800 is the quirkiest new offering of them all, due to an innovative top-hinged touchscreen that makes self-portraits easier and props the camera up for hands-free shooting.
Samsung NX200: 20-Megapixel APS-C Sensor in a Compact Body
The compact interchangeable-lens Samsung NX200 packs a 20.3-megapixel APS-C-size sensor, and it's compatible with Samsung's iFunction lenses, which offer direct access to some in-camera settings via a button on the side of the lens barrel. Samsung has expanded the range of options available via the iFunction button on this camera, adding the ability to enable special-effects filters by pressing the button.
The NX200 is capable of continuous shooting speeds of up to 7 frames per second at full resolution--even while capturing RAW-format images. Video resolution has also been upgraded to 1080p at 30 frames per second, saved as MP4 files. ISO equivalency settings range from ISO 100 to ISO 12800, and the new camera also has bracketing modes for exposure and white balance.
Samsung has added 3D still-image capture and a pan-to-capture panorama mode (for both 2D and 3D images) to the NX200. Viewing the images in 3D requires hooking the camera up to a compatible 3D TV set via HDMI; the camera's 3-inch-diagonal AMOLED display is 2D-only.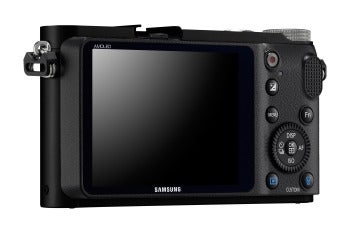 Like its predecessor, the NX200 will offer full manual, aperture- and shutter-priority modes, and a unique "Lens Priority" mode that's used with the iFunction button. New to the mix is a range of Magic Frame options, which we first saw in the Samsung SH100 point-and-shoot camera.
Another notable addition is the NX200's textured, raised handgrip, which should be a welcome improvement over the NX100's somewhat slippery frame. Unfortunately, there's still no on-board flash, although an external flash for the camera's hot shoe is included.
Pricing, kit configurations, and release date are not yet available for the Samsung NX200.
In addition to the NX200, Samsung also announced four new lenses for its NX line of interchangeable-lens cameras, all of which include the iFunction features: an 18-200mm/F3.5-6.3 optically stabilized zoom lens, a 16mm/F2.4 wide-angle lens, a 60mm/F2.8 macro lens, and an 85mm/F1.4 portrait lens. The NX system has a focal-length multiplier of 1.5X, and stabilization dependst on the lens.
Samsung WB750: 18X Optical Zoom and Manual Controls
The pocket megazoom Samsung WB750 offers a dual-stabilized (optical and digital) 18X optical-zoom lens that reaches from 24mm wide-angle to 432mm telephoto. Unlike the WB750's 18X optical-zoom rival, the Nikon Coolpix S9100, the camera offers full manual, aperture-priority, and shutter-priority modes.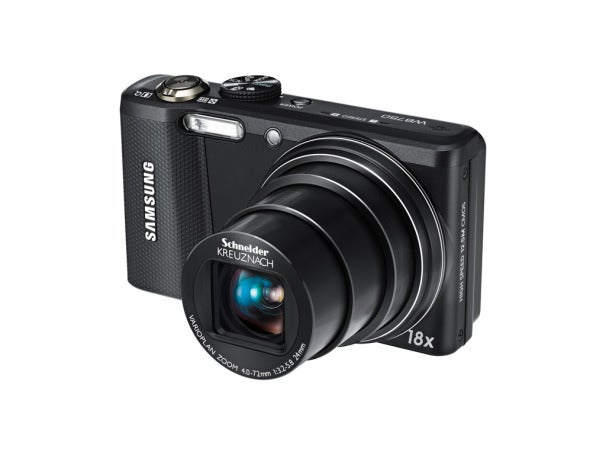 The WB750 features a 12.5-megapixel, backside-illuminated CMOS sensor that's optimized for low-light shooting. Burst mode tops out at an impressive 10 frames per second at full resolution, and video capture weighs in at 1080p at 30 fps in MP4 format.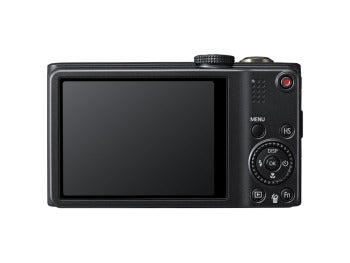 Samsung's new pocket zoom also features many of the same in-camera goodies found in the Samsung SH100 and NX200, including 3D snapshot and 3D panorama modes, an exposure-bracketing HDR (high dynamic range) option, the Magic Frame features that allow for in-camera image overlays and special effects tricks, and a "zooming shot" feature that mimics the effects of using a slow shutter speed while simultaneously zooming the lens.
Around the back of the WB750 is a 3-inch LCD screen, a dedicated video-record button, and a quick-access button for the camera's high-speed burst mode. Information on pricing and availability is not yet available for the Samsung WB750.
Samsung MV800: Part Touchscreen Camera, Part Book
The 16-megapixel Samsung MV800 is just 0.7 inches thick, but it somehow fits room in that small frame for a few crazy display tricks. The back of the MV800 is almost entirely taken up by a 3-inch-diagonal capacitive touchscreen, which has a hinge that allows it to swing upward.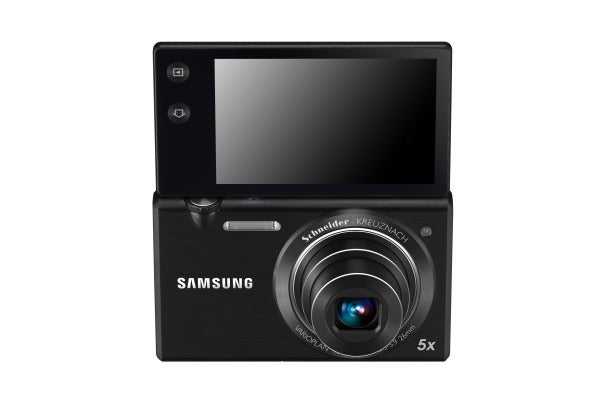 Samsung says the radical new design is to aid with self-portraits and overhead and low-angle shots, as the screen's display orientation automatically adjusts depending on how you're holding the camera. Beyond the touchscreen, the back of the camera has two buttons--one for the camera's "home screen" and the other for playback--and a third button hidden under the screen is used as a shutter button when the screen is flipped upward.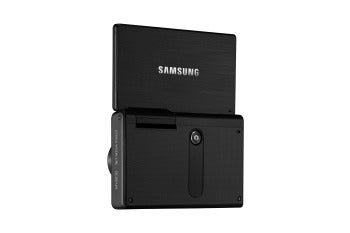 The hinged screen is definitely a welcome spin for a lower-priced camera, as the MV800's core specs are otherwise pretty plain. It has a 5X optical-zoom lens (26mm to 130mm), dual optical/digital image stabilization, and 720p video recording at 30 fps and 15 fps.
A few of its in-camera features get quite a bit more interesting, as the MV800 shoots MPO-format 3D still images and also has the Magic Frame features found in other new Samsung cameras, an instant-panorama mode, and a "Storyboard Maker" that lets users lay their images out in a sort of comic-book template and share their images that way.
Like many recent ultracompact Samsung cameras, the MV800 will use microSD cards for storage. No pricing or release information is available for the Samsung MV800 for now.
SHOULD I BUY SAMSUNG NX200?
The Samsung NX200 is a new compact interchangeable-lens model, the WB750 offers an 18X zoom lens, and the slim MV800 has a unique adjustable touchscreen.