Lenovo's new Yoga 900 should be one of the strongest competitors against the surprise Surface Book flagship from Microsoft. If nothing else, it has the best answer to the Surface Book's dual-fulcrum hinge: a strong, elegant watchband hinge, a carryover from the Yoga 900's year-old predecessor, the Yoga 3 Pro.
Crafted from more than 800 individual pieces and capable of 360-degree rotation, there's still nothing else like this mechanism on any other device, and it remains a standout feature for the now-renamed product line. Lenovo also says it improved the hinge, making it smoother to operate.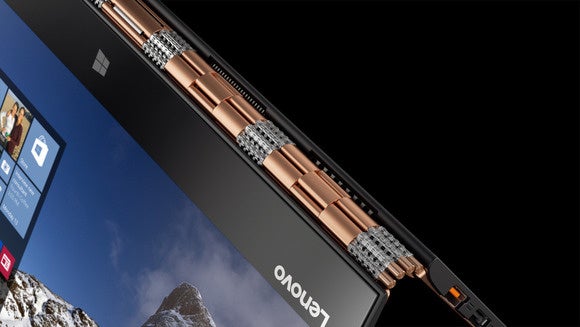 Not that this laptop is starving for highlights. The Yoga 900 is a superslim 0.59-inch laptop weighing a mere 2.8 pounds. Inside, the Yoga 900 will show off all the latest hardware upgrades. Start with the CPUs: 6th-generation Intel "Skylake" chips, either the Core i5-6200U or the Core i7-6500U. The various SKUs will offer 8GB or 16GB of DDR3L memory, and 256GB or 512GB of Samsung SSD storage.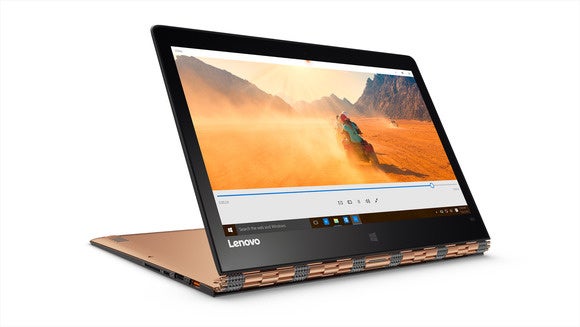 The 13.3-inch IPS display offers a crisp, 3200x1800-pixel resolution (QHD+) and 10-point touch. There appears to be nothing that special about the integrated graphics—Lenovo offered no details. By comparison, the Surface Book offers a discrete GPU on some pricier models.
Lenovo claims the battery on the Yoga 900 will last up to 9 hours.
The Yoga 900 will be available at Best Buy and Lenovo's website starting Monday. Prices will start at $1200 and top out at $1500. You even have three color choices: Clementine Orange, Champagne Gold, and Platinum Silver. (All the photos in this article show Champagne Gold.) Stay tuned for a review once we get our hands on a unit.
Why this matters: Lenovo didn't know about the Surface Book when it was developing the Yoga 900—no one did. Microsoft's surprise super-laptop has made an already-competitive flagship market downright brutal. The Yoga 900 lacks the discrete GPU offering on some Surface Books, but it still has a versatile design on its side.